How to get started with IdeaPress
Welcome to the IdeaPress guide! Here you'll learn how you can convert your WordPress website into an iOS, Android and Windows Phone application in a matter of minutes. Don't worry if you don't have any experience with coding, our interactive wizard will walk you through the entire process without you needing to write a single line of code. Find out how to create an account, input your website, create your app then submit it all in this guide.
Creating an account
Your first step with IdeaPress, creating an account is necessary because we need to be able to store all of the apps you make! The email address is so that we can send you your apps once we make them. So let's get started:
Step 1:
Head to the homepage of IdeaPress and click the "Get Started" button located on the bottom of the phone.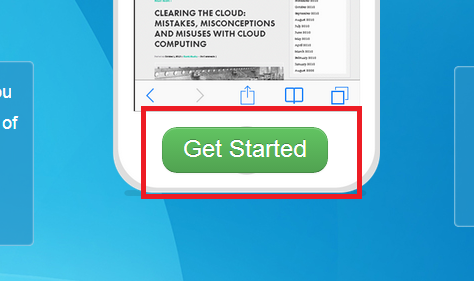 Step 2:
Input your account info including your email address and password.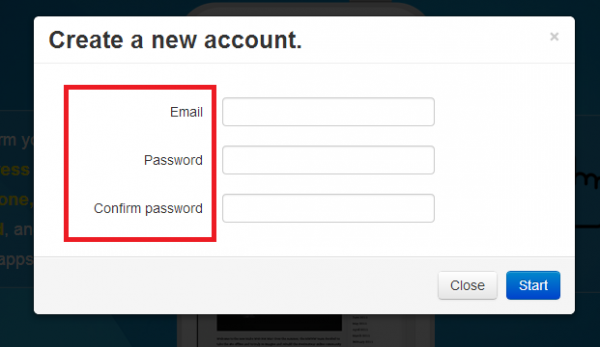 Inputting your website
Now that you've created an account, we can get down to what you're really here for: App making! First off though you'll have to add your WordPress website to IdeaPress before you can start making the app for it.
Step 1:
Login to your account and click on the green "Create Site" button on the top left part of the dashboard.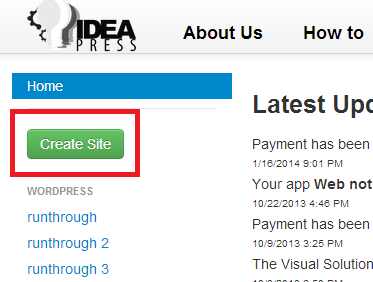 Step 2:
Now we get to input your WordPress website and name your project. If you have a WordPress.com website, then you can breeze through this step. However, if you have a self-hosted WordPress website, then you'll need to download and install our plugin. If you need help installing it, then follow these instructions.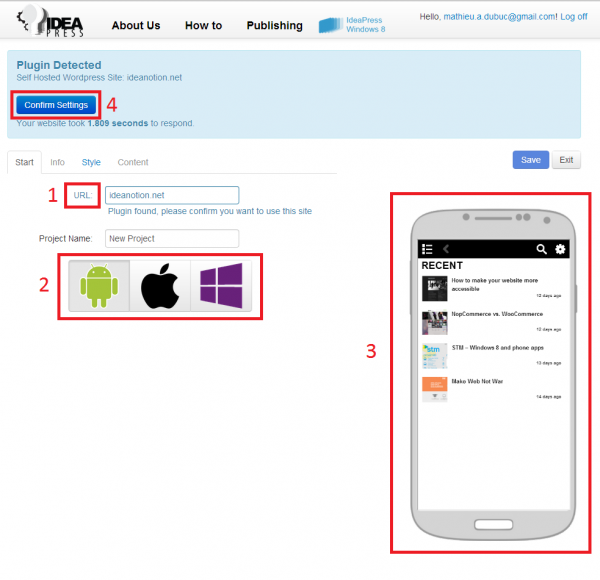 Don't worry about choosing the right type of app here, you will be able to go back at any time and start a new project on a different platform.
Creating your app
Now we get to the part we've all been waiting for. The part where you get to make your very own iOS, Android and WinPhone apps for your WordPress site!
Step 1:
Here you'll have to input all of the details of your app. This includes: the app name which will appear at the top of your app, the description that will appear in the app store, the about section which will appear in your app and finally the keywords which will dictate how your app is searched for in the various app stores.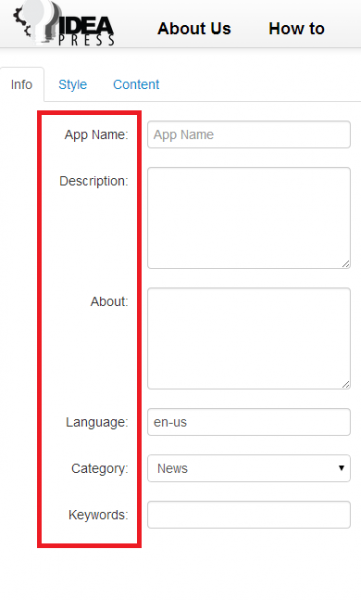 Step 2:
Here we get to the fun part, where you get to design and style your app. You get to choose the Colours, style and photos that will be included in your app. Each kind of app will have different photo requirements based on their respective app store requirements. They are very strict with resolution and size, so make sure your images are as specified. Some image types are optional, these images are not required for the app store, but will make your app look better in some cases.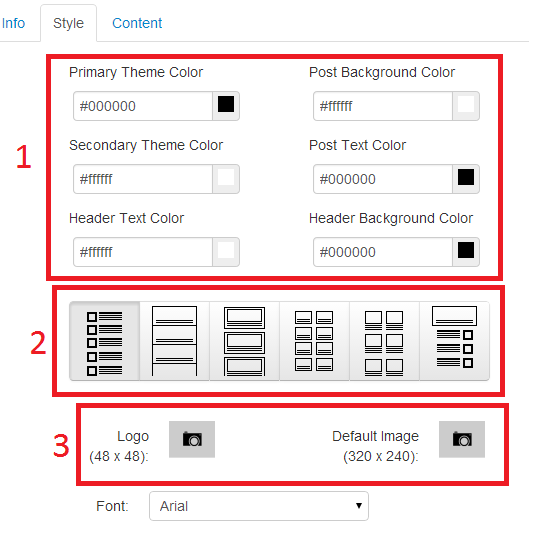 As an added bonus, you can see what your changes will look like using the fully interactive live preview phone to the right of the wizard. Try it out!
Step 3:
The final part of making your app is deciding which categories and pages you want to include in your app. These categories are pulled from your website and you can include a maximum of 10 of each type. To add a category or page, simply drag it from the exclude section into the included section. You can rearrange the order of either type by dragging it up or down.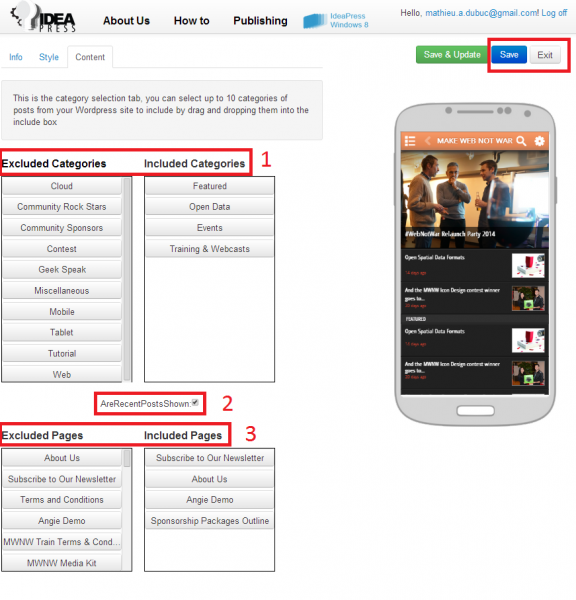 If you do not want to include either categories or pages in your app, simply remove all option from the included section. When you've completed all steps, hit the Save button at the top right of the wizard to save all of your settings before exiting.
Submitting your app
Now that you've customized your app to your desire, you can submit it to be built.
Step 1:
On the dashboard of the app in question, once you have saved a project that has all of the necessary requirements, a new icon will appear below the app: Publish. Click on this icon to begin generating your app.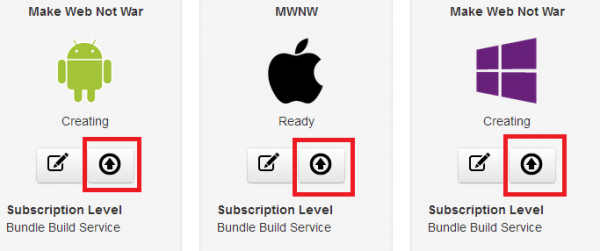 Step 2:
Once you click on the publishing button, you will be taken to our store page. If you just want the apps, then choose the build bundle option. If you're looking to tinker with your app even more and add features, then you'll want the for developer option. Once you purchase the build bundle for one app, it will be unlocked for all other platforms!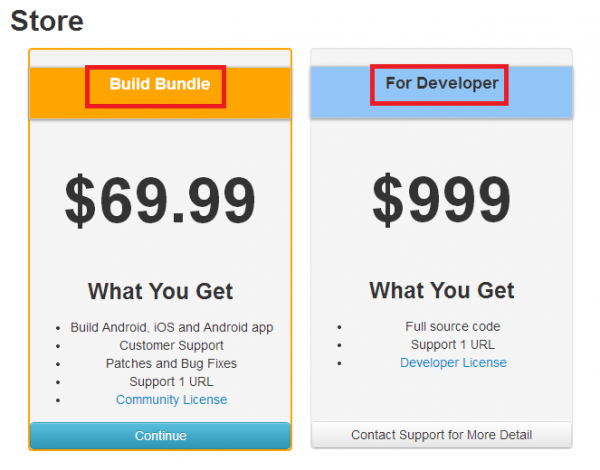 Step 3:
Once you've chosen which option you would like, you will be taken to our terms and conditions page. In order to progress, you must read and accept our terms and conditions. Here you will also have the opportunity to insert any coupon code that you may have. Simply type it in and hit accept. your price will drop according to the coupons value. Once you hit accept, you will be forwarded to paypal in order to process your payment.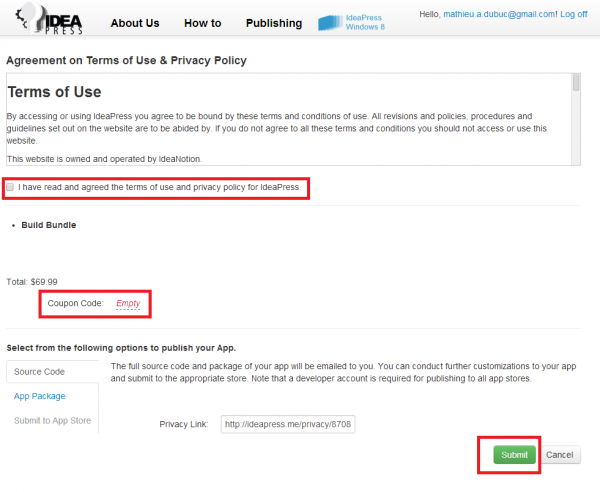 Once you gone through paypal, you will be returned to your dashboard and should see the following message at the top. You will then receive your app within the hour by email to your accounts email address.
If you don't, please don't hesitate to contact us at: support@ideanotion.net.
Happy App Making!