You may have read the book or seen the 2000 film adaptation of Pay It Forward, the story of eleven year Trevor McKinney, who is given a social studies assignment to "change our world and put it into action." Trevor comes up with the idea of "Pay it Forward," where he will perform 3 random acts of kindness and in return ask his 3 beneficiaries to each perform 3 more good deeds, "paying it forward." Thus, overtime, Trevor's three kind acts are multiplied infinitely.

But how does Trevor's utopian idea relate to modern technology and the internet as we know it?
Tokken is IdeaNotion's take on paying it forward in the 21st Century.
The Basics:
Tokken is a social web application that bridges real life altruism with the of benefits technological design, organization, and style. Companies using Tokken will have a more competitive edge because of tokken's efficient means to exchange knowledge and ideas. For organizations, Tokken provides credibility, exposure, and expansion. And for the everyday user, Tokken is a new place to look for help, offer support to others, and contribute to their group or organization.
The Philosophies:
You might be wondering why IdeaNotion chose to create Tokken. In addition to the Pay It Forward idea, the IdeaNotion team was inspired by the principles of reciprocity, influence, and compassion. IdeaNotion believes that these principles are universally understood, and that people need an easier and more effective means to practice them. In short, people innately want to help one another, Tokken connects and enables these people to do just that.
Reciprocity: Foremost to Tokken is the principle that what you receive is what you contribute. In essence, Reciprocity is the mutual exchange of goods, services, or acts. Reciprocity is the first of the six principles of persuasion, propelled by Dr. Robert Cialdini, an internationally renowned expert in the fields of persuasion, compliance, and negotiation. Tokken promotes reciprocity in the real world as receiving a favor in Tokken will consume a Tokken while providing a favor is rewarded by receiving a Tokken. Users will run out of Tokkens if they do not contribute back to their Circles. IdeaNotion puts a timeless human ideal into practice in the 21st century.
Influence: An obvious consequence of performing kind actions is receiving respect and influence. This influential power generates philanthropic social status. The exchange of Tokkens is presented in an interactive "influence graph" where an individual or an organization's influence is visually displayed. People performing kind actions are acknowledged for their kindness.

"I am obligated to give back to you the form of behavior that you first give to me. If you invite me to one of your parties, I will invite you to one of my own. If you remember my birthday to a gift, I should remember yours. If you do me a favor, I owe you a favor. In the context of obligation, people say yes to what they owed. "
– Robert Cialdini, Author of Influence: The Psychology of Persuasion
The User Experience:
Users engage with Tokken by posting text and image "Requests" for things they need and by responding to the "Requests" of others. When a Request is fulfilled, the user that fulfils the Request is given a "Tokken" from the requesting user, a virtual token of appreciation. Users may also post "Offers" for things they wish to give away or services they wish to provide.
These user exchanges take place within groups called "Circles". These Circles can be as large and ecclectic as entire cities, companies, colleges or universities, to groups as small as office departments, sports teams, or book clubs. Because users post their Requests in specialized Circles, they are more likely to be exposed to people who are likeminded and that are able to help them easier. Tokken's Circles nurtures the individual cultures of groups and are based on the principle that self-centredness is counterproductive.
Finally, each user has a profile page displaying their "Influence" graph, a visual representation of all their Requests and Responses. Thicker arrows depict more total interactions and double sided arrows represent mutual relationships. A typical profile page can be seen below.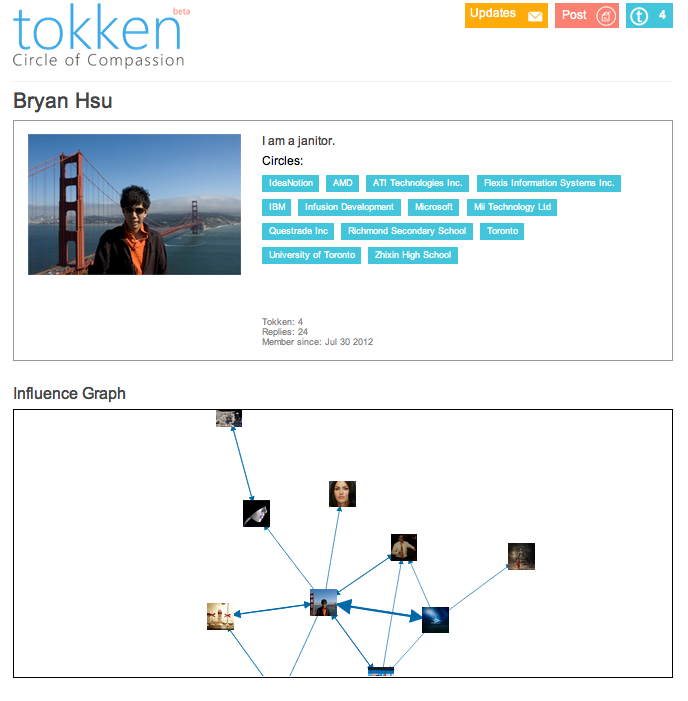 A Tokken User's Profile Page.
The Technologies:
Being an IdeaNotion project, Tokken is a work of technological know how and difficulty.
Tokken was built upon the principles of reliability, scalability, and interoperability.
To fulfill Tokken's scalability requirement, IdeaNotion decided to put the application into the Cloud. After having analyzed and compared Windows Azure, Google's App Engine, and Amazon's EC2, Azure came out on top.

The following technologies were also used in the making of Tokken:

Framework:
Client Side Script:


Jquery and Jquery-plugins.

Database:


Microsoft SQL Server and Graph DB.

Database access:
Code-First with Entity Framework.

Join Now:
IdeaNotion's Tokken beta is currently available – you'll be able to pay it forward yourself in just a few clicks. Visit tokken.cc for more info and stay tuned for further details and updates!