Hey guys, I've heard of a lot of people having trouble submitting their apps to the Windows Store, so I thought I'd take some time to write about what you need to do. Including, what you'll need, the steps involved and finally some common mistakes that people make that can delay the submission process. At Idea Notion, we've been through almost 500 app submissions, so we've experienced just about every possible delay that can be had from the Windows Phone store. Hopefully I'll be able to pass on some of the wisdom so you don't have to make the same mistakes!
What you'll need:
A developer account: Currently, a developer account for Windows phone costs $50 a year, which is about middle of the road for app stores, with Apple charging $99 and Google charging $25.
A working app: Kind of important! needs to be a .xap file form. For this demo I'll be using an app I made for free with ideapress based on the Make Web Not War website.
Pictures: You're going to need pictures of your app including a logo, background and screenshots.
Privacy Policy: One of the more unknown requirements, in fact, all app stores require a privacy policy so that potential downloaders can know how their data is being used. I give an example of one further on.
Step 1: Getting started and App info
Once you've gotten all of those items together and logged into your developer account, click on "submit an app" on your dashboard: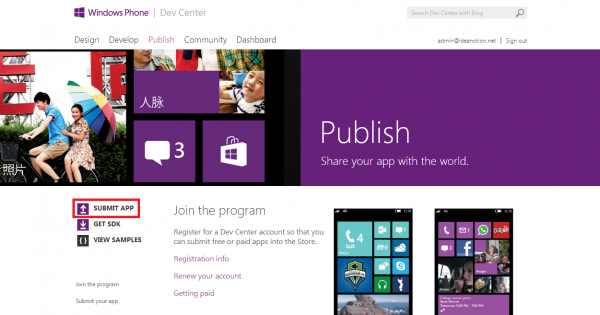 Here you will see the sections that you'll have to complete in order to publish your app. Let's start with the first one App info:
App name: This is different than the app name that people will see in the store (that name is taken from the code of your app). This is just for the internal team at Microsoft. Just use the same one as in the code for simplicities sake.
App category: This part is important. Apps submitted under an inappropriate category will be rejected. A lot of people struggle here because Microsoft only provides a few set categories. My advice here is to focus on the main topic of your app. If you're mainly a social blogger but sometimes talk about tech, don't label your app under the tech category.
Pricing: This one is up to you, but you'll also see an option for free trials. Just make sure you've enabled them in your apps code before you check that box.
Market distribution and Distribution channels: Another common reason why apps can be rejected. Make sure your apps content complies with the policies of Microsoft as well as the countries that you want to publish in. Some countries have pretty stringent requirements so give the list a good read through to make sure everything fits.

Publish: Here you have the option of either having your app published as soon as its approved or having it put on standby. Unless you have a specific launch date in mind, just have it publish once its approved. Once an app is approved, you cannot edit it again without redoing the whole submission process.
Step 2: App description
Now we can move on to actually uploading your app. The app description section is the last mandatory section before you can submit your app for review.
The first thing we're going to do is upload the .xap file and set a version number.

If this is your first app, then the version defaults to 1.0. Try keep track of your changes and app updates so that when people try to update the app they don't get confused with an incorrect version number.
Next we move on to the description and keywords boxes. The description is the MOST common reason for app store rejections. The Microsoft submission team puts a lot of emphasis on this. Nearly 80% of the rejections I've seen from IdeaPress have been because of a poor description.
A proper description should include:
The main topic of your app

The features that are included

No promotional information. No sales pitch here, this needs to be a bare bones description of your app.
Keywords are another important section, a keyword dictates when your app appears as a search result. Since I've used a MWNW app, I've imputed Open data and Open government. Now, when someone searches for those keywords, my app will appear. Your app will get rejected if Microsoft feels like your keywords are not relevant enough.
To the right of these boxes you'll see more boxes relating to your license, privacy policy and support email address. If you leave the legal license blank then it will default to the Microsoft basic license.
Privacy URL and support email must be filled to submit your app successfully. Luckily, IdeaPress generated a basic one for me which you can find here. If you need custom terms though, then you'll have to make your own. As for the support email, they may or may not test it to make sure that it works, just keep an eye on that inbox and you should be fine.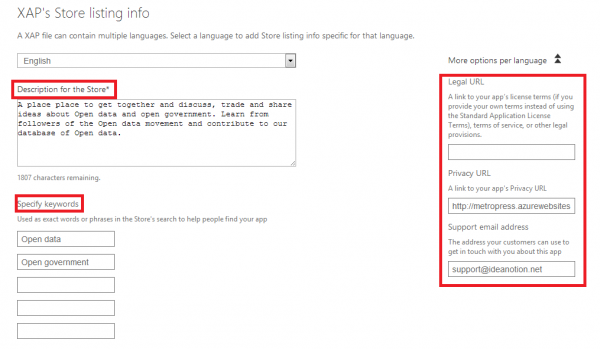 Now lets move on to images, there are three categories of images that you'll need to submit. The pixel dimensions are noted and Microsoft is strict on them. I'd recommend an image re-sizer to make sure you have the right sizes. Once again, make sure that the pictures you post are relevant and appropriate or you'll have to do some troubleshooting with the store.
As for the screenshots, while I have gotten away with just one, I'd recommend at least three to be sure.
Step 3: Submission and the Waiting game
That's it in terms of requirements, now you just have to click submit! You'll be given one last chance to review and edit all of the details so make sure everything is right.
The submission process usually takes 2-4 business days. If there is a problem they will contact you. The faster you resolve the issue the faster your app will get published.
Most problems can be sorted fairly easily such as an inaccurate description or improperly sized pictures.There are however a few bigger problems that are more difficult to solve:
A non-functional app: Microsoft will of course test out your app before allowing it in the store. If it does not work or interferes with the operating system, then you'll have to fix the problem. They will often show you the problem, but will not help you with the solution.
Not enough content: We encountered this problem a couple of times with IdeaPress, a lot bloggers tried to get their apps published but were rejected because they did not have enough posts. Unfortunately there is no easy fix here, you need to create more content for your app and try again.
Not enough functionality: Sometimes, Microsoft will deem your app to be "useless." I have never seen them reverse their opinion on this, so your only chance to get your app published is to add more functionality and features to your app. As well, you may need to better define the purpose of your app.
How to publish an IdeaPress app in the Google Play Store
What you'll need:
A developer account: Google offers the cheapest developer accounts of the big three at $25 dollars.
Your app APK: This is the file that you will upload to the store. They will run checks on it so make sure that it works!
Screenshots: Usually 3 or more will do it, but if your app supports tablets then you will need additional pictures showcasing the tablet version of your apps.
Photos: There are three main photos that you will need an icon, a feature graphic and a promo graphic. They are really strict on the sizing when uploading so I would recommend an image resizer such as this

free one

.
A privacy policy: A lot of people don't know this, but every app store requires a privacy policy for each app that they publish. Luckily, the IdeaPress wizard automatically generates one for you. However, if you have special requirements for your app, you will need your own.
Creating your app submission package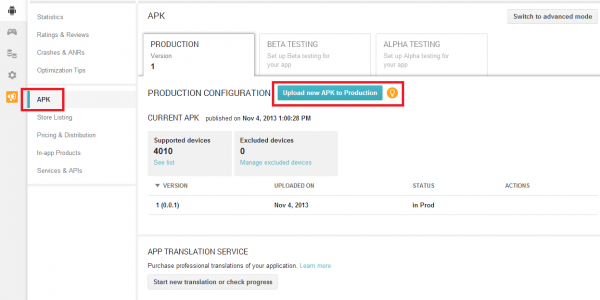 Once you login, head to your developer console and click on Add a new application. You will be prompted to give the default language of your app as well as the name of your app. You're limited to 30 characters here and keep it rated G. Or else your app will get rejected. You'll also have the choice of either uploading your APK or putting together your store submission package. Choose whichever one you want, you can go back to the other one later.
Step 1: Submitting your application
There are three sections that you have to complete in order to submit your app successfully: APK, Store listing and Pricing & Distribution.
Submitting your APK
The hardest part to get to (since you have to make your app) but the easiest part of the submission process.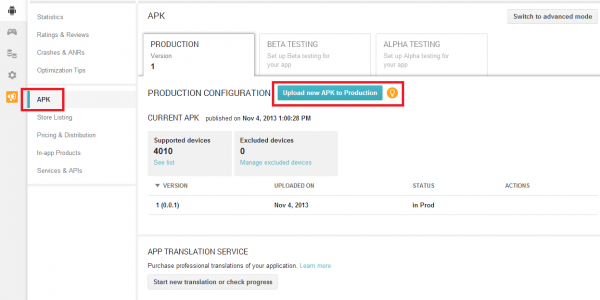 Just click on upload your APK to production and choose your APK file. Once your file has loaded, Google will test your app and let you know if you need to tweak anything before they allow you to submit it.
Step 2: Store Submission
Often overlooked as trivial, this is the section that leads to the most app store rejections. Everything here needs to be perfect.
Title: Needs to be the same as in your APK file and needs to be appropriates
Description: The most common reason for app store rejections. Your description needs to accurately tell the reader what they will find in your app once they download it including content, media and features. Make sure that you stick to the main topic of your app here.
Promo text: This is the "elevator speech" for your app. It is essentially your description boiled down to the bare essentials.
Recent changes: this applies to patches that you may make to your app at a later date. If this is your first time submitting the app, then you can leave it blank.
Screenshots: Remember to include at least 3 screenshots for each category that you want to publish your app in (phone, 7 inch and 10 inch tablets).
Graphics: As I mentioned earlier, the sizes for these graphics need to be exact. They also need to be appropriate and representative of your app.
Promo video: An optional extra, I haven't heard of Google being too tough on these so as long as your video is appropriate and relevant then feel free to upload it.
Categorization
This is another important section, here you need to categorize your app and select the content rating for it. This is another very common reason for app store rejections. Make sure that you choose the category that best represents the main focus of your app. If it's a blogging app that occasionally dabbles in tech, then don't add it under tech.
Content rating: the safest choice between getting the most reach and having an appropriate level of content is usually low maturity. But every will have their own needs here.
Contact information: This section is for if a user wants to contact you. If you have a dedicated support email, then feel free to use it. As far as I know Google does not check this, but if there is a serious problem with your app then they will.
Privacy policy: Google is one of the only app stores that does not make this section mandatory. If you don't have one then click the box, but I recommend that you at least have a basic one to protect yourself and your users.
Step 3: Pricing and Distribution
Pricing: A pretty simply choice here, you can either make your app free or charge for it. If you want to make it free then all you have to do is choose that option, if you want to charge for it then you'll need a merchants account.
Countries: Here you'll choose the countries that you want to make your app available in. If your app is only available in one language then try to focus on those countries. As well, you need to keep your content in mind when publishing to certain countries. Google won't ban you immediately for choosing the wrong countries, but if you rack up enough complaints then they will.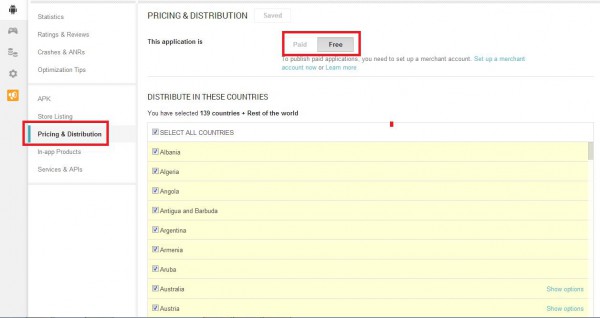 Consent
Marketing Opt-out: Here you need to decide whether you want to limit the amount that Google can advertise your app. My recommendation is that you let them market for you if you have a smaller app, but take control if you are a bigger more popular app.
Content guidelines
Here you need to confirm with Google that your app meets their content guidelines. They will not immediately test your apps compliance, but again, if you rack up enough complaints they will take down your app.
Step 4: Submission
We're done! Now you just have to click on that tab at the top to have your app published. The usual time for approval and placement is within 24 hours.

Google will contact you if they have any problems. I hope this guide help! Submitting an app to the Google Play store is actually the easiest of the big three, but it can still be tricky!
By: Mathieu Dubuc