Post By: ONset Magazine Team
Starting a magazine? There's an app for that.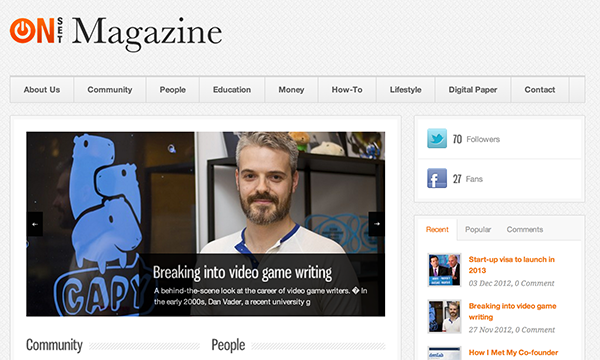 There are plenty of apps out there that help entrepreneurs manage their busy day. But when it comes to creating the right culture, choosing the right office and hiring the right employees, start-uppers may have to rely on their experience, luck and, sometimes, gut instinct.
ONset Magazine, short for Ontario Startup Entrepreneurs in Technology, is here to make this process easier. We aim to be a one-stop shop for everything that interests the young people who work or want to work with Ontario startups, offering budding entrepreneur a publication that informs, motivate and empowers them in the knowledge economy.
Our inaugural issue features articles on how companies can take advantage of Canada's new startup visa, the opportunities for women in tech, tips on finding the right co-founder and what you should know about the bureaucracy of crowdfunding.
While ONset strives to help entrepreneurs navigate the ever-changing startup scene, the magazine team is also exploring the new territory of digital publishing. We know since day one that our readers are early adopters of technology who consume much of their information on the go. That's why we have made the magazine accessible and readable on various mobile devices.
The responsive template of ONsetmag.com makes sure that the website will adjust its display according to your screen size and resolution. Likewise, the digital paper can also be viewed on laptops, tablets and smartphones.
With the help of tech enthusiasts at Toronto's IdeaNotion, our multiplatform portfolio is expanding. ONset's Windows 8 app for Windows laptops, phones and Surface tablets is now available at the Windows store. Readers can access the magazine content – articles and multimedia resources such as videos and audio clips – directly from their desktop or home screen both online and offline. Equipped with the comment function, ONset Win8 app also offers a new model of interaction with readers. By converting our WordPress-based website to a Windows 8 app using IdeaPress, we are excited to bring ONset to a whole new audience.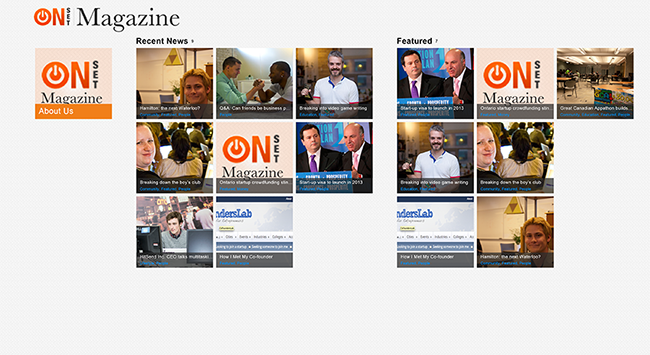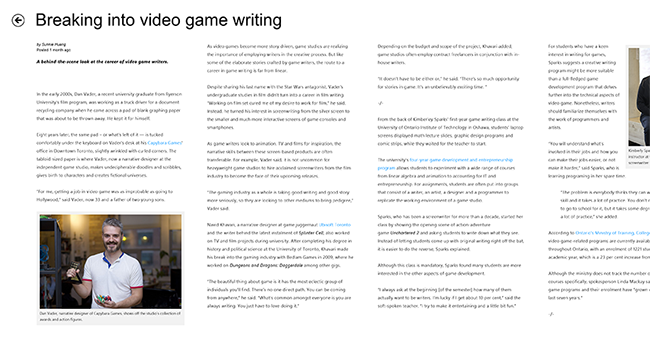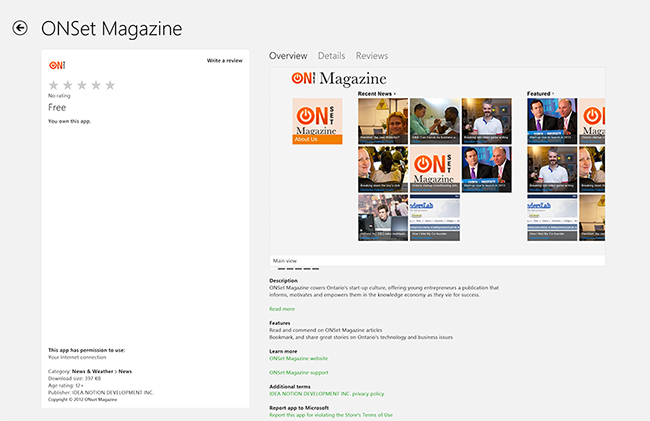 Although there's yet to be an app that can build a successful startup for you, there is an app for the magazine that will guide you through the exciting journey of entrepreneurship. We welcome you to join our conversation by visiting onsetmag.com, connecting with us on Twitter, and downloading ONset's Windows 8 app at http://apps.microsoft.com/windows/en-us/app/onset-magazine/1695cab8-280b-4505-b234-8e1ba3047bd4.