Developing WordPress on Azure now is quite easy, thanks to the rich tools provided by Microsoft. Based on my recent experience, in this post I will highlight what needs to be done to easily develop WordPress on Azure.
Prerequisites
Create WordPress on Azure
After you subscribe to Windows Azure, you can login to https://manage.windowsazure.com/ to manage your Azure setting.
After login, click on the "Add" button on the lower left corner.

Choose Website -> From Gallery

Choose Blog->WordPress

Configure the application by entering the URL and set up the database
VOILA!!! You just created/deployed your WordPress website on Windows Azure. You can navigate and manage the application via the website tab.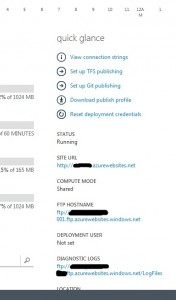 You can access the WordPress information via the right hand menu, which includes Site URL, View Connection String for database, and FTP Hostname. You can also access the credential by clicking on the Download publish file link.
Windows Azure has made WordPress creation and deployment very easy for non-technical people. You can deploy WordPress on Azure in less than 15 mins.
Tool to develop
Windows Azure has not only made WordPress creation easy, but it makes wordpress development easy too. Download WebMatrix 2 via web Platform Installer. After you install WebMatrix, you can edit WordPress by clicking the WebMatrix button at Azure Portal. Note: Depending on the browser, you might need to download different plug-ins.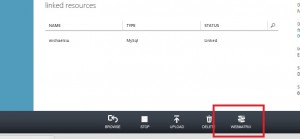 After you click on WebMatrix, it will load WebMatrix locally, download the website's content to the local drive, install WordPress, PHP, MySQL and related dev tool, and configure its settings.
On WebMatrix, just click on the "Remote" tab and press "Open Remote View" to develop your application.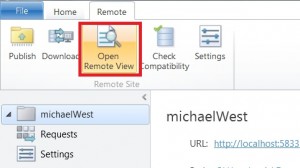 Now you can remotely connect to the website via WebMatrix and start editing the files directly over the net without using FTP separately, which makes it very convenient.  Also, WebMatrix will notify the user if the local version is out of sync with the online website, which makes source control extremely easy.
Happy coding! On the next blog, I will talk about WordPress migration on Azure and some bug I encountered in Windows Azure on WordPress
If you have any questions, please leave a comment or contact me at michael.siu@ideanotion.net.
By Michael Siu