The Big Tweet or Word Cloud are two different types of Twitter Walls IdeaCloud provides for event organizers. Both products project tweets in real-time, but in radically different ways.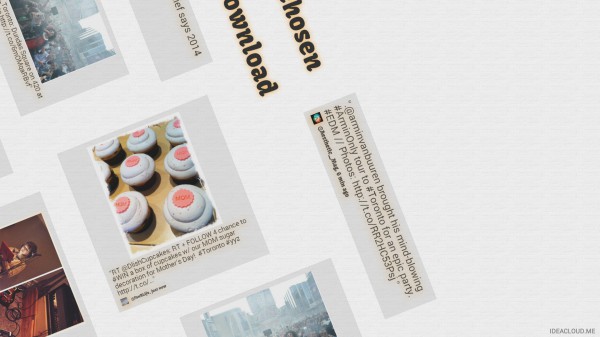 The Big Tweet
The Big Tweet showcases common tweets and frequent phrases. Pictures and tweets pop up on the screen in real-time and in different locations. The Big Tweet is constantly in motion, moving ALL the pictures and tweets from one location to another to keep the audience continuously engaged.
How the Big Tweet helps event organizers
The Big Tweet provides event organizers a platform to increase their Twitter engagement.  Specifically, Big Tweet showcases tweets through unconventional movement, which focuses attention to different tweets and popular ideas. The Big Tweet can also include pictures from Instagram as well, though these pictures will not be showcased as effectively compared to the Picture Wall due the movement.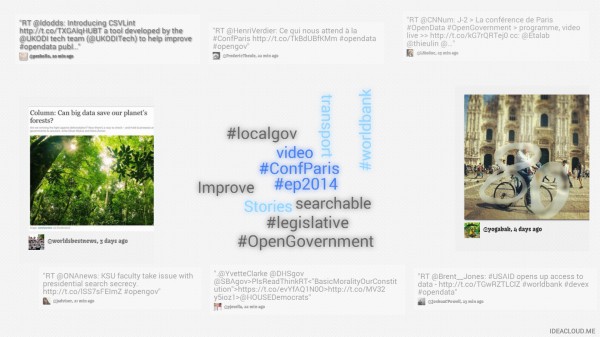 The Word Cloud
The Word Cloud creates shapes with the most popular phrases and tweets. As new tweets are projected onto the screen, the shape adjusts accordingly. The Word Cloud also adjusts colours of the tweets to provide a visually pleasing experience. Finally, organizers can adjust he background around a singular theme for the event and moderate the Word Cloud to show tweets related to the event.
How the Word Cloud helps event organizers
The Word Cloud has recently been used as a platform for audience members to ask questions for speakers. Event-goers can tweet questions and organizers can choose which to include in the Word Cloud. Word Cloud can also be used to track and highlight themes throughout the event. In the future, we also plan on using the Word Cloud for announcements. Announcements can be shown in the center of the Cloud and reach all the users tweeting to the Word Cloud.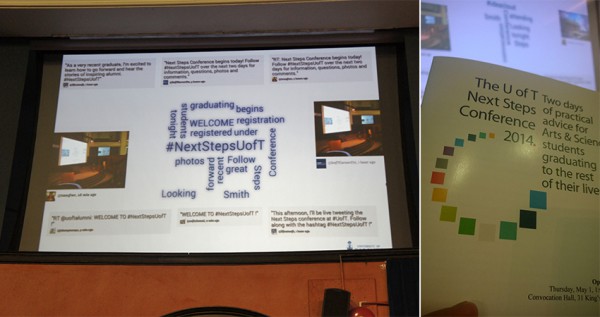 Both the Big Tweet and the Word Cloud provide event organizers specific advantages.  Ultimately, both products provide an interactive approach to engaging the audience. Whether you want to showcase tweets in an unconventional way or create an easy way for event-goers to ask questions, IdeaCloud is the perfect tool for organizers and event-goers. . Check out the Big Tweet and Word Cloud in action at our IdeaCloud Showcase. If you have any question or would like more information, please visit IdeaCloud. By Umar Shaikh